Cleaning up our backyard in Seattle
Fourth of July in Seattle is a well-known boating friendly holiday in the city. Hundreds of boats stake out a spot early and anchor around Lake Union to watch the fireworks take off from Gasworks park. The aftermath of this great event is what most people don't see – firework debris, bottles, cans, plastic, and more are all left floating on Lake Union the morning of July 5th. This is where the Puget Sound-keeper Alliance comes in. The Puget Sound-keeper Alliance has a simple mission: "to protect and preserve the waters of Puget Sound." They achieve this mission through a combination of monitoring and enforcement, policy and civic engagement, and stewardship and education.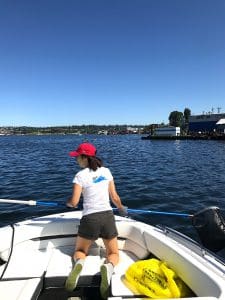 The Puget Sound-keeper Alliance organizes a yearly "Seattle Summer Sweep – Fireworks Clean Up" where volunteers take kayaks, paddle-boards, and small boats to do their part to clean up beautiful Lake Union. This year Alexander Marine employees took part in the volunteer work, using the 29' Regal OBX as our clean up vessel of choice. Staff cruised around the lake in the morning of July 5th with large nets, and even larger garbage bags that by the afternoon were full to the brim. Special attention was given to the area around the shores of South Lake Union and extracting even the garbage from the lake floor.
Alexander Marine is always looking for ways to give back to our community and we believe that every little bit counts. For more information on how to help or to volunteer for the Puget Soundkeeper Alliance, please visit: pugetsoundkeeper.org