Cruising to Catalina Island
Santa Catalina Island, an island southwest of Los Angeles is known for being the boating mecca of Southern California. With its rich history, diverse wildlife and resort town feel, Catalina is a must-stop on your next cruise.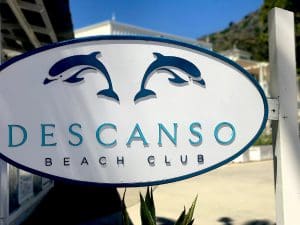 Catalina offers a little something for everyone in the family with Avalon in particular hosting most of the options. Avalon is currently the only incorporated city on the Island, housing about 90 percent of the island's population. There is no shortage of outdoor activities for the adventurous crowd, from snorkeling and hiking to golf and zip-lining. For the more laid back, there is ample shopping and a great spa right in town. The Descanso Beach Club is a great place to appease a crowd with varying tastes. Located in a secluded cove with one of the most pristine beaches in California.
"Morning hours are serene. The pace quickens as the day progresses, the restaurant and bar get busier and Descanso becomes the hottest place to be in town. Great food and beverages can be enjoyed with table service at Descanso Beach Club Restaurant, Catalina's only seaside restaurant, or delivered to your beach towel. Margaritas anyone? The Club has easy access to snorkeling, kayaking, the Catalina Climbing Wall and the Zip Line Eco Tour. Our imported beach sand is gentle on feet and gives guests a beautiful and comfortable place to relax in the sun. Descanso Beach Club offers high-end amenities such as private cabanas, chaise lounges and a gracious and attentive staff. Reserve your cabana or chaise lounge on our Cabanas & Chaise page."
~ visitcatalinaisland.com | Descanso Beach Club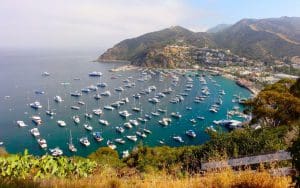 The quaint village of Two Harbors is located on the west end of Santa Catalina Island, another ideal destination for a Southern California boating adventure aside from Avalon. Located just 20 miles southwest of Los Angeles, it is easy to enjoy unique, world renowned island opportunities like hiking, biking, diving and snorkeling.
The beautiful Pacific waters surrounding Two Harbors are crystal clear, and home to whales, seals and pods of dolphins. There are over 700 mooring sites around Two Harbors in secluded coves, landings, beaches, and harbors including Isthmus Cove, Fourth of July Cove, Cherry Cove, Emerald Bay, and more. Two Harbors is a more relaxing low key destination when compared to the lively town of Avalon. Take a cruise to Catalina Island and let us know what you think!