Please join Alexander Marine USA and Azimut Yachts on August 17th, 2023 from 6:00-9:30pm for this exclusive event presented by Luxury Rally Club and the Santa Lucia Preserve on their magnificent private sanctuary to celebrate automotive and yachting excellence, elegance, and luxury!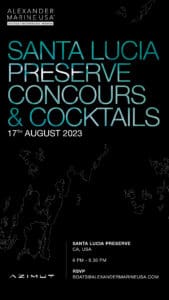 Monterey Car Week is an annual automotive extravaganza held in Monterey, California from August 16th- August 21st, 2023. This week-long event gathers automobile enthusiasts, collectors, and industry professionals from around the world to celebrate and showcase some of the most exquisite, rare, and historic automobiles.
The event features a wide range of activities and attractions, find out more information here .