Description & Details
The Azimut Grande 32 Metri is a bold and deliberate break away from the past with its graceful lines and concealing avant-garde features previously unheard of in the category. Generous interior volumes are deceptively disguised by Stefano Righini's powerful exterior lines which sweep imperiously towards the stern. A touch of edgy, sporty character is added by the large full-height windows which rise up from the hull and extend into the superstructure. With its side garage accommodating a tender and jet ski, two large beach clubs in the stern and foredeck, the Azimut Grande 32 Metri is a serious wide-body megayacht.
LAYOUT & VESSEL DIAGRAMS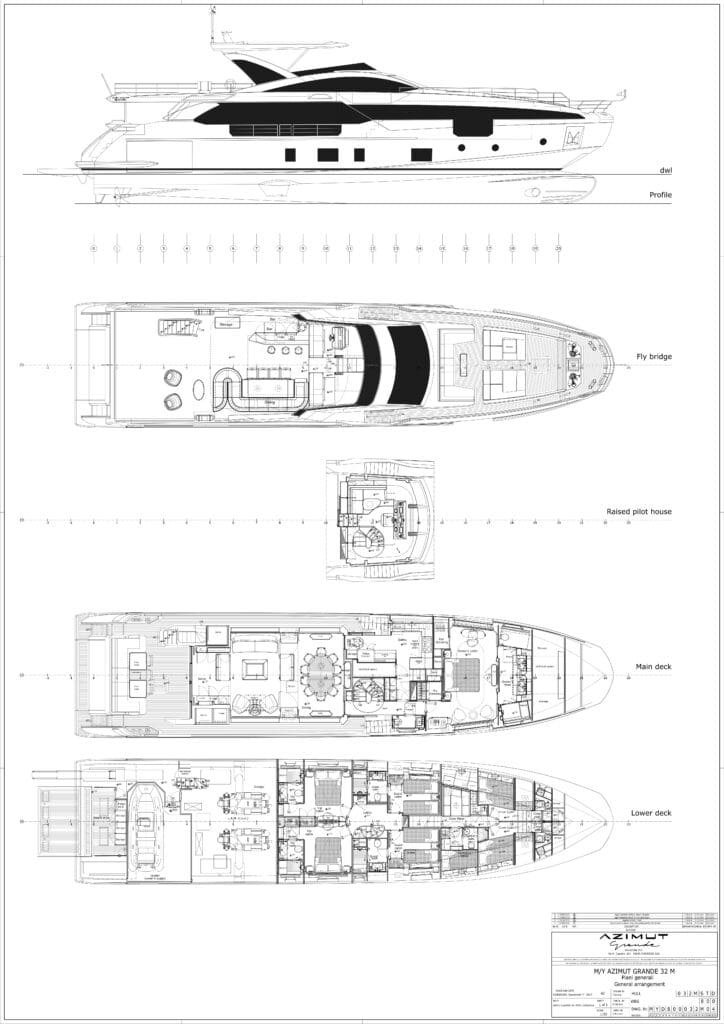 Highlighted Details & Specifications
Carbon-Tech Generation
The use of carbon fibre is a construction choice that allows volumes and surfaces to be increased in size while keeping the same weight, therefore maintaining excellent levels of dynamic stability.
Carbon fiber lamination is applied to:
superstructure
flybridge
radar arch
hard top (opt)
platform and transom
D2P Displacement to Planing Hull
The D2P Displacement to Planing Hull designed by Pierluigi Ausonio in conjunction with the Azimut Benetti R&D Centre combines the comfort typical of a displacement hull with the performance of a planing hull and it significantly improved fuel efficiency.
This new solution is based on a double chine hull design with an innovative wave piercer and allows the yacht reaching high top speeds without needing particular powerful engines, or navigate in displacement mode with a remarkable range at a cost effective speed.
The hull has been optimised for the full range of most frequently used speeds of 10-12 knots and cruising speeds in semi-displacement mode.
Side Garage
Side garage for a 5 meter tender plus a 3 meter jet-ski.
This leaves the stern completely free for a magnificent 18 m2 beach area provided by the big pivoting swim platform.