Description & Details
The very quintessence of innovation, Azimut Yachts' first ever Trideck superyacht defies the accepted norms of boat design to create extraordinary new spaces that redefine the concept of onboard living. With dimensions like never before and a design that breaks all the rules, the Grande Trideck is the magnificent new Azimut Yachts flagship.
LAYOUT & VESSEL DIAGRAMS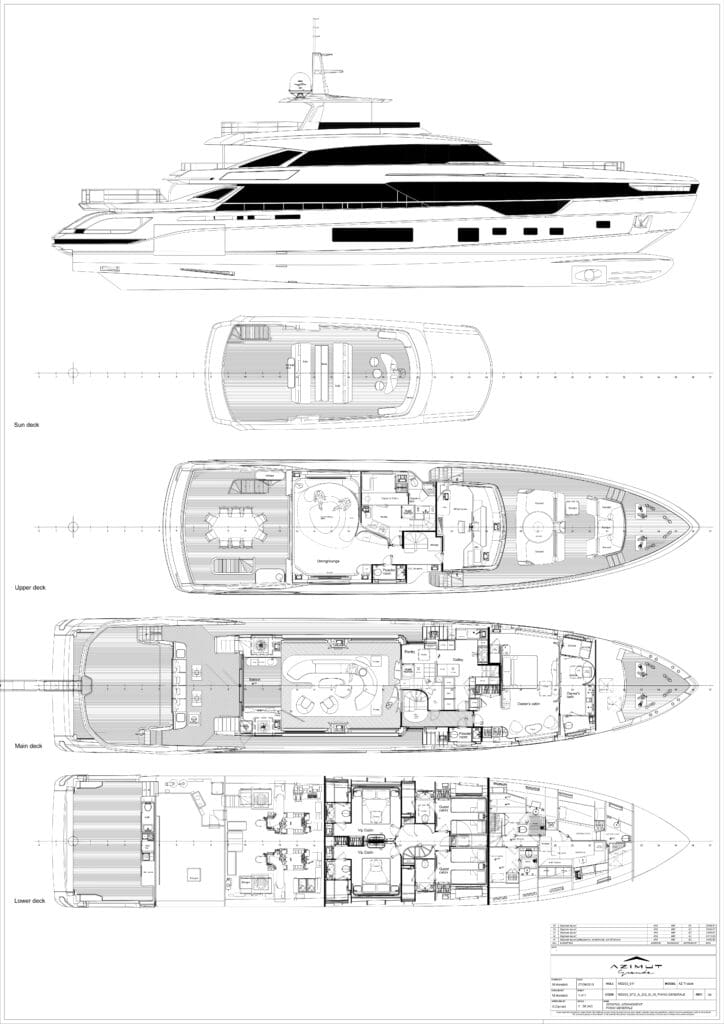 Highlighted Details & Specifications
Three Decks+One
Azimut Grande Trideck features a new living area never seen before on a yacht this size, the Sea View Terrace. The Sea View Terrace is an aft raised "mezzanine" deck, which is the latest addition to the traditional triple-decker. Thanks to this layout innovation, Grande Trideck offers four terraces: the sundeck, perfect for secluded sunbathing, then the upper deck, where we find the main Outdoor Dining Area, next, the new Sea View Terrace, floating just a few meters above the water, and down below, the full-height beach area. Furthermore, one additional benefit of the aft raised "mezzanine" deck is the creation a Private Patio at the entrance to the salon, perfect to enjoy a complete privacy.
Second Gen D2P Hull
The second generation D2P_Displacement to Planing® hull, designed by P.L. AUSONIO Naval Architecture with Azimut-Benetti R&D, combines the comfort typical of a displacement hull with the performance of a planing hull and a wave piercer to improve fuel efficiency. It allows the yacht to reach high top speeds without needing particularly powerful engines, or navigate in displacement mode with a remarkable range at a cost effective speed. If we are to compare the second generation D2P_Displacement to Planing® hull with the original, we find that Azimut Grande Trideck has the same absolute consumption at all speeds above 19 knots as a yacht 3 meters shorter, 30 gross tons lighter and 35 displacement tons smaller. And, at a cruising speed of 15 knots, the Trideck actually consumes 15% less. Now, if we were to compare the 2nd gen D2P with a typical hard chine semi-planing hull then the numbers are even more staggering: at displacement speeds, the increase in fuel efficiency exceeds 40%.
Carbon Tech Generation
The use of carbon fibre is a construction choice that allows volumes and surfaces to be increased in size while keeping the same weight, therefore maintaining excellent levels of dynamic stability. Azimut Grande Trideck uses pure carbon fibre laminated with vynilester resin on:
Superstructure
Flybridge
Radar Arch
Mast
Hard Top
Transom And Platform (Hybrid)
Hotel Mode
Hotel Mode is just the simplest definition of an otherwise sophisticated and ingenuous innovative way to enjoy time at the anchor at zero emission in the most peaceful silence nature can offer.
In Hotel Mode on board systems are fed by dedicated lithium ion battery packs in lieu of generators for up to 4 hours during the day and up to 8 hours at night, when the electrical power need of the yacht naturally decreases (range varies depending on weather conditions as well as personal use of electrical loads).