Now Offering Financial, Insurance, and Extended Coverage Services
A NEW WAY TO MAKE YOUR BOATING DREAMS A REALITY.
Alexander Marine USA is now your official all encompassing boat brokerage and dealership. Buying your next boat has never been easier with the addition of our brand new finance and insurance department. All sales can be completed 100% in house for the simplest process possible.
Finance & Insurance // how to
Your Alexander Marine broker will be an integral part of the finance and insurance acquisition process. Once your broker has found you the boat of your dreams and you have decided to make an offer, you will discuss how the boat will be paid for. If financing is your desired route, your broker will submit the offer contingent on financing.
Your broker will then connect you with our Financial Services Manager, Mark White. Mark will take you through your financing and insurance options including extended protection programs for you new or used boat. Mark has close working relationships with direct lenders and insurance agencies and coordinates with these organizations to create the optimal finance and/or insurance package personalized for you.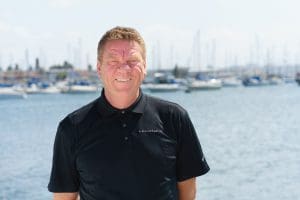 Finance & Insurance // about
Mark P. White has an extensive background in Finance and Insurance within the boating industry. Mark studied finance and earned a Bachelor of Science degree from the University of Wyoming. He has developed Finance and Insurance departments with multiple boat and yacht dealerships and was an integral part of enhancing the marine business while working with Bank of the West.
Mark explains, "I am looking forward to developing what should be a very helpful resource for both our clients and our providers at Alexander Marine USA". The Private Client Financial Services division of AM USA will create a mutually beneficial relationship with our clients and insurance agencies, lenders and other providers. Finance and Insurance services are available now from Mark P. White and Alexander Marine USA.