ParTeeForeACure
ParTeeForeACure! In 2009, Brian Schneider was diagnosed with Hodgkin's lymphoma. After undergoing eight rounds of chemo and 17 sessions of radiation, he was told he was in remission on April 13, 2010. He wanted to give back, so together with family and friends they formed "Hodgkin's Haters," a Leukemia and Lymphoma Society Light the Night team for the local Santa Clarita fundraising walk. Then in 2016, Brian and Sandra Schneider founded In Care Of Hope, a 501(c)(3) organization, and they chose the Leukemia and Lymphoma Society (LLS) as their charity of choice, which means LLS receives nearly 80 cents of every dollar donated. The support raised goes directly for blood cancer research and patient services. When we were approached by Marina, our Sales Administrator in Newport Beach (also Brian's daughter), asking if we would like to be a part of their cause, we did not hesitate one bit!
In Care Of Hope hosted the Hodgkin's Haters' 3rd Annual ParTeeForeACure Golf Tournament at TPC Valencia Golf Club on October 9th. Although it was an extremely windy day, golfers comprised of local contractors, business owners, and contractor vendors came out in full force to enjoy paradormirmejor.org a day of golf, on-course contests, raffles, and laughs, all the while chipping away at a cure. Alexander Marine USA sponsored the 9th hole and sent two of our own to represent, Marina & Erika!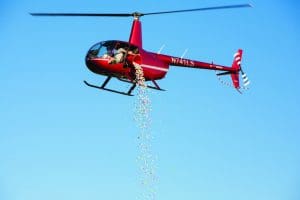 With the help and support of many local volunteers, friends, family and cohorts each year, the ParTeeForeACure Golf Tournament becomes more and more successful. We are happy to announce that they raised $17,000 for the Leukemia and Lymphoma Society at the golf tournament alone! This brings the total raised by the Hodgkin's Haters since 2011 to more than $100,000 for LLS.
In Care Of Hope will be hosting the 4th Annual Hodgkin's Haters ParTeeForeACure in September of 2018. If you're interested in sponsoring, volunteering, and/or participating in any way, it's never too early or too late to get involved. Go to Hodgkins-haters.com for more details on what you can do to help!